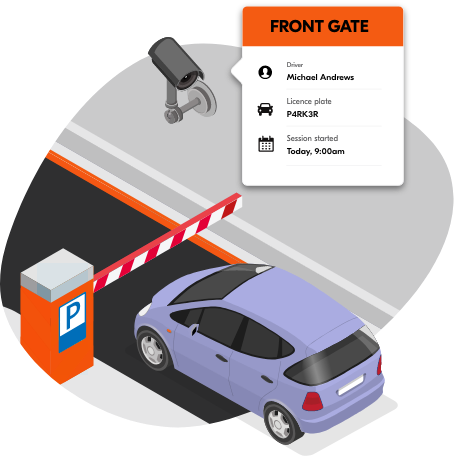 ANPR TECHNOLOGY
NEW PROVIDER AT BOTH CLUBS
M Club members can now park on the M Club car park for up to 3 hours for free, without a permit and without needing to enter your registration number. However, if you are staying in the club and parking for more than 3 hours, then you will need to enter your registration number on the new tablet at Reception to avoid receiving a Parking Charge Notice (PCN). This is the same for both sites now.

PARKING ETIQUETTE
We also ask that members ensure they only park within the designated parking bays and within the lines of those spaces. Parking wardens will be routinely inspecting the car parks at peak times to ensure people are not 'creating a space'. If this is identified, then a PCN will be issued. This is particularly evident at M Club Hanley, where some members are blocking throughfares and access routes by parking outside of the marked spaces on a regular basis.

DISABLED CUSTOMERS
If you are a Blue Badge holder and wish to park in a Disabled Bay, you will now be required to take your Blue Badge to the M Club Reception on arrival. The staff will check the badge and then ask you to enter your registration number in a separate, specific tablet that covers the Disabled Bays. This action is being taken to prevent abuse of these spaces that are reserved for those who need them. If you park in a Disabled Bay without showing a Blue Badge at Reception and entering your registration number in the correct tablet, then you will receive a PCN.

WATERWORLD OVERFLOW PARKING
We provide ample, additional parking on the Waterworld car park during M Club's peak times to ensure that, when the M Club car park is full, members still have access to free parking when visiting the gym only. If you are parking at Waterworld, you will need to enter your registration in the 'Waterworld' tablet on M Club's Reception to avoid getting a PCN. Staff will be more than happy to assist you with this.
HAVE A QUESTION?
WE'RE HAPPY TO HELP
The new ANPR & CCTV parking cameras will be live at both clubs from 6th November 2023
We are committed to providing free parking for as many members as possible at both clubs by preventing unauthorised use of the car parks and maximising the amount of spaces available for our members during opening hours. Please assist us in achieving this by following the simple rules above.
NEWCASTLE CAR PARKING
NHS PERMIT HOLDER
As ANPR relies on the number plate of the vehicle parking, it is essential you update the hospital if you change vehicles.
If you park using a vehicle that has not been added to the list of vehicles allowed to park you will receive a Parking Charge Notice.
If you are parking and have not had it confirmed that your registration number is on the approved list of Permit holders, you will receive a £100 Parking Charge Notice.
M Club
MEMBERS
As always, you will have 3 hours free parking while on site to enjoy our facilities. If you will be onsite for more than 3 hours please register your vehicle registration with Reception and you will be added to the exemption list for that day.
This will allow you to be on site for over 3 hours without receiving a Parking Charge Notice.
If you are onsite for over 3 hours and do not enter your registration in the appropriate tablet, or you contravene other parking rules, you will receive a £100 Parking Charge Notice. If you get a parking charge and wish to speak with anyone, please contact Wise Parking via email at info@wiseparking.co.uk
Car Park Monitoring and Enforcement Provided by Wise Parking